August 15th - September 15th
We want to bring the full palette to the perch! All the structures could use some more color and we hope your paint brush can put it on. If you are an aspiring artist, a painting pro or a wannabe, we would love for you to come and leave your mark on one of our surfaces. We will cook for you and host you all month long and tailor your visit to your needs as a creator.
We are looking for people to teach workshops, play music, and lead awesome wholesome activities. Please reach out if you might be interested!
Bike to Common Ground Fair
The fair was undoubtedly a highlight of our 2022. This coming fall we will be helping to lead a 3-day bicycle trip to Unity, Maine for the 2023 fair and would love it if you were able to roll with us. Send us a message if interested and we will e-mail you the deets.
May 1st – Nov 1st, 2022
Bicycle Benefits, started and run by our very own Ian Klepetar is putting on another Bike Bingo!
How to Play:
RIDE YOUR BIKE, COLLECT STAMPS & WIN PRIZES!
REQUEST A STAMP AT EACH SPOT WHEN YOU USE YOUR BIKE BENEFITS* STICKER

and/or COMPLETE A CHALLENGE

PRIZES REDEEMABLE AT LISTED LOCATIONS UNTIL NOV. 1, 2022

ALL TRIPS (INCLUDING REDEMPTIONS) MUST BE DONE BY BIKE
Stickers and bingo cards available at the Perch or other participating businesses.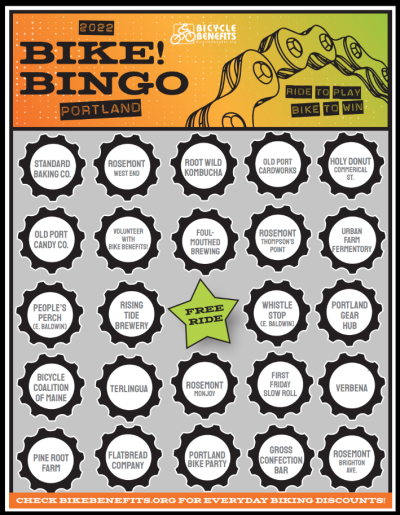 Maria's Masquerade
October 16th, 2021
Maria; one of our perchers is turning 33! We will be celebrating her birthday with a masquerade at the tower starting at 3:33 pm. We will have apple Olympics and snacks. Wear a fun costume, bring some lawn game ideas and your instruments to jam out around the fire! Also bring a pumpkin to have thrown off the water tower.
If you are riding out from Portland, we can connect you with others who will be riding out.
Camping available.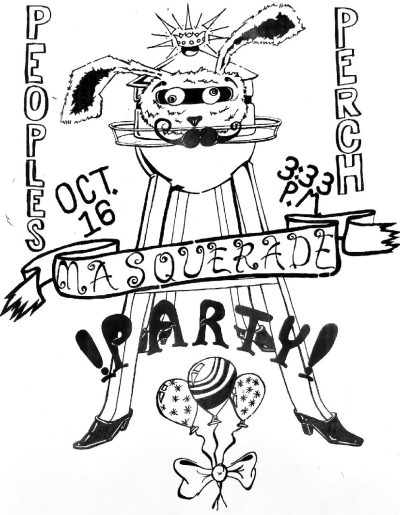 75th Anniversary of Baldwin's Historic Water Tower
September 12th, 2021


The water tower turns 75 this year and we're hosting a public event to commemorate it's past and celebrate it's future. We will have a presentation followed by activities for the whole family. Free ice cream and food for all attendees. Parking available across the street. Please bring your cup, preferred beverage and plate/utensils. Fun for the whole crew!
2:00 meet & greet
2:30 games & activities
3:30 presentation
4:00 music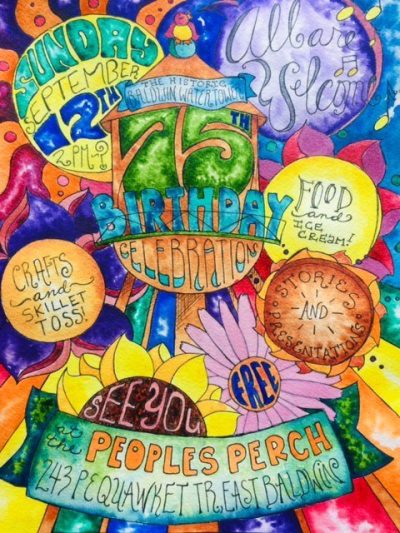 PORTLAND TO PERCH BIKE RIDE ON THE RAILS
June 19th, 2021
Hosting our first bike ride event! Meeting at East End Beach in Portland for the sunrise then following the abandoned rail road tracks to the water tower for a camp out party!!
Come join us!!
It'll be an adventure!
Ice Cream Sunday
2-4 Every Sunday all summer, 2001
Bring a bowl, a spoon, and your favorite topping. We will supply the ice cream. Let's enjoy some sweets and get to know each other!
Follow Us on Facebook for event updates!